Swan, Kathryn
Primary tabs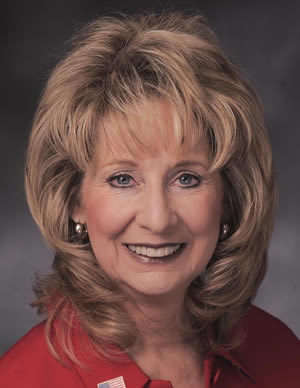 House
Kathryn
Swan
DISTRICT147
REPUBLICAN
Representative Swan received a D+ rating on our scorecard for the 2016 legislative session.
Rep. Swan represents Cape Girardeau and part of Cape Girardeau County in the Missouri House of Representatives.
She resides in Cape Girardeau with her husband of 41 years, Reg. They have two children.
MISSOURI FREEDOM
LEGISLATIVE
SCORECARD
RATING
Heavier Weighted Key Votes in 2016
1.
HB 1891 prohibits the withholding of earnings from public employees for dues. MAF supports giving public sector employees the choice on how and if their union dues are collected — MAF Supports.
2.
HB 1892 — "Narcotics Control Act" — establishes a Prescription Drug Monitoring Program (PDMP). MAF opposes HB 1892 because it attempts to violate medical privacy by establishing a compulsory government database to warehouse the schedule 2 - 4 prescription information of Missourians, a clear violation of principled, limited government — MAF Opposes.
From the 2016 Legislative Session
Bill
Issue
LV
MV
HB1562
Child Trafficking Advertisement
Y
Y
HB1631
Photo ID
Y
Y
HB1698
Meet in MO Act
Y
N
SB607
Third Party Verification
Y
Y
OV: HB1891
Paycheck Protection
Y
Y
HB1976
Tow Truck Regulations
Y
N
HB1979
Ethics Reform Revolving Door
Y
Y
HB1983
Ethics Reform Elected Officials Can't Act as Paid Political Consultants
Y
Y
HB2203 - SA 1 TO SA 4
C4 Disclosure
N
HJR53
Photo ID
Y
Y
SB656
Gun Bill
Y
Y
SB572
Taxation by Citation
N
Y
SB591
Tort Reform Expert Witness
A
Y
SB623
Gas Tax Increase
N
SB800
Meet in MO / Brownfield Tax Credits
N
N
SB801
Supporting and Strengthening Families
Y
SJR39
Religious Freedom Amendment
Y
HB1370
Pro-Life Measure
Y
Y
SB703
Ethanol Subsidy
Y
N
HB1433
Supporting and Strengthening Families
Y
Y
HB1589
Education Savings Account
Y
Y
HB1729
Ban Fertilizer Bans
Y
Y
HB1892
PDMP
Y
N
HB1904
Cell Phone Tax
A
N
HB2166
Lobbyist Gifts
Y
Y
HCR57
Convention of States
Y
Y
Key:

LV=Legislator Vote
MV= Missouri Freedom Vote
A= Absent
<![if supportMisalignedColumns]> <![endif]>
MISSOURI FREEDOM
LEGISLATIVE
SCORECARD
RATING